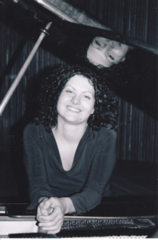 Martina Schulmeisterová was born in Havlíčkův Brod in 1978. During her studies, she aroused public notice by many successes in both national and international piano competitions. In 1993, she placed second in the international competition held in Košice. She was one of the finalists in the international piano competition hosted by Ettlingen, Germany (1994) and in the Czech Republic – "Beethoven's Hradec" (1996). She also won a medal in the international piano competition (A.M.A. Calabria) in Lamezia Terme, Italy (1999) and in "Musical Performance and Pedagogics" in Helsingor, Denmark (2000).
She is often an invited guest for the stage in the Czech and foreign stages in Poland, England, Spain, France, the Netherlands, Italy, Slovakia, Denmark, China, and Taiwan. As a soloist, she accompanies with major ensembles like Wihan Quartet and many other prestigious orchestras.
She has been a piano professor at the P.J.Vejvanovský Conservatory in Kroměříž since 2002.